Flickering candles and personalized menus set the table. A chef prepared dinner says it's Valentine's Day.
They're all part of our Valentine's Day dinner package. We'll even add a personalized message to your menus for a lovely keepsake. The Valentine's Day Personal Chef Experience includes your choice of four courses from our Fixed or Full Service menu. Your chef will arrive about 2½ hours before your scheduled dinner time to set the table and prepare your special meal. Each course will be served tableside, and your chef will handle all meal clean-up. Avoid the restaurant crowds and stay safely at home. Relax, unwind, and enjoy your Valentine's Day Personal Chef Experience in your own home!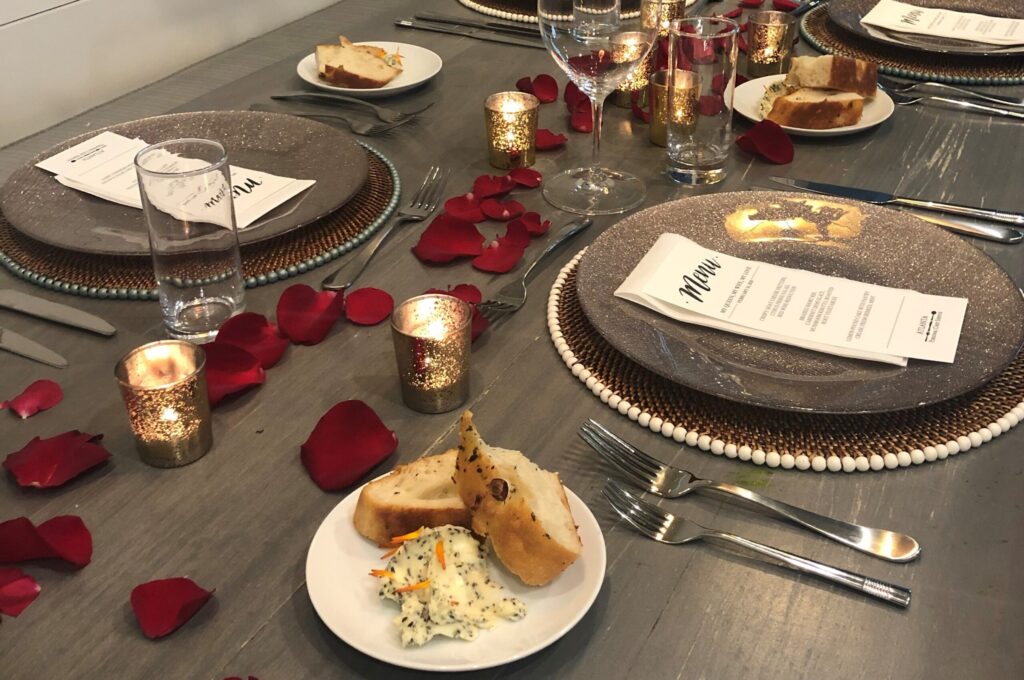 Pricing
Dinners for Two include your selections of four courses off our Fixed Dinner Party Menu for $400 or customize your entire meal or select from our Full Service Dinner Party Menu for $550. Add $30 per couple for a surf and turf selection. Prices are exclusive of groceries, which will vary depending on menu chosen (estimated $95–$140 per couple). Add in two more guests for an additional $250 plus groceries.
Valentine's personal chef dinners also include a small cheese board perfectly sized for two. Enjoy with a glass of wine or champagne to start off your evening!
Celebrating with more than four? Call us for a custom quote. A $1,000 minimum service charge applies for parties of six or more.
Safe Dinner Parties with Atlanta Personal Chef Service
Things look a bit different these days, but you can still enjoy gathering with small groups you're comfortable with. Here's what you can expect when you book with us:
Chefs and servers wearing masks at all times
Modified beverage service to limit dining room interaction: wine and water will be pre-poured, with wine bottles and water pitchers on the table for self-service refills
Full kitchen sanitization prior to departure—sanitizing handles, detailing the stove, and sweeping the floor
While our chefs love interacting with guests, to keep everyone safest during these times, we require guests to stay out of the kitchen when the chefs are working. Please notify us if anyone is feeling ill or has known or suspected exposure to anyone who is ill. Safety is our first priority, and we will gladly reschedule your dinner to a future date.
Limited spots are still available for Valentine's Week.
Call us now at 404-913-4633 to make your reservation!
Atlanta Personal Chef Service is the perfect choice for celebrating Valentine's Day this year. A truly thoughtful gift you have to plan in advance, otherwise we'll be completely booked up. Interested in Atlanta Personal Chef Service for this Valentine's Day? Give us a call at 404-913-4633. If you'd like us to contact you, please fill out our contact form here and leave us a note about Valentine's Day in the comments section. Want to learn more about pricing for other types of events? Click here.