Atlanta Personal Chef Service is changing the way that Atlanta families do dinner. Imagine dinner where everyone enjoys family time, good food, and peace of mind.
We believe that food is incredibly personal. We nurture ongoing relationships and work to earn the trust of the individuals and families we serve. In doing so, we can understand not only your dietary values and dining preferences, but also those culinary touches that turn dinnertime into moments of delight and luxury.
Both of our Weekly Dinner Services pair one of our chefs with your family. The relationship starts with an initial consultation to determine your family's food preferences.
Each week, your chef will design a menu specifically for your family using fresh, seasonal ingredients for you to review. With the week's menu established, your chef will visit your home on a scheduled basis—most families start with two or three days a week. Your chef starts each day shopping for the best ingredients available and then will prepare dinner right in your own kitchen. Our chefs will always leave your kitchen clean and tidy.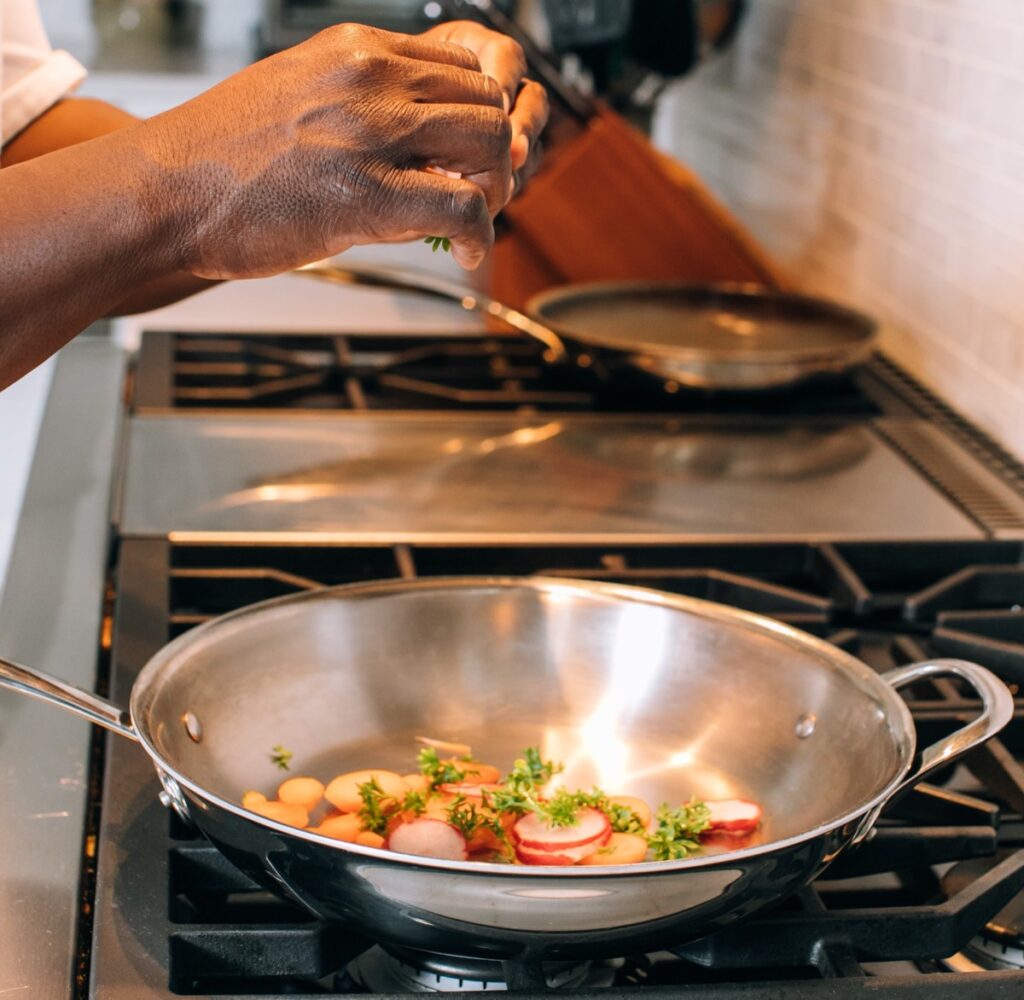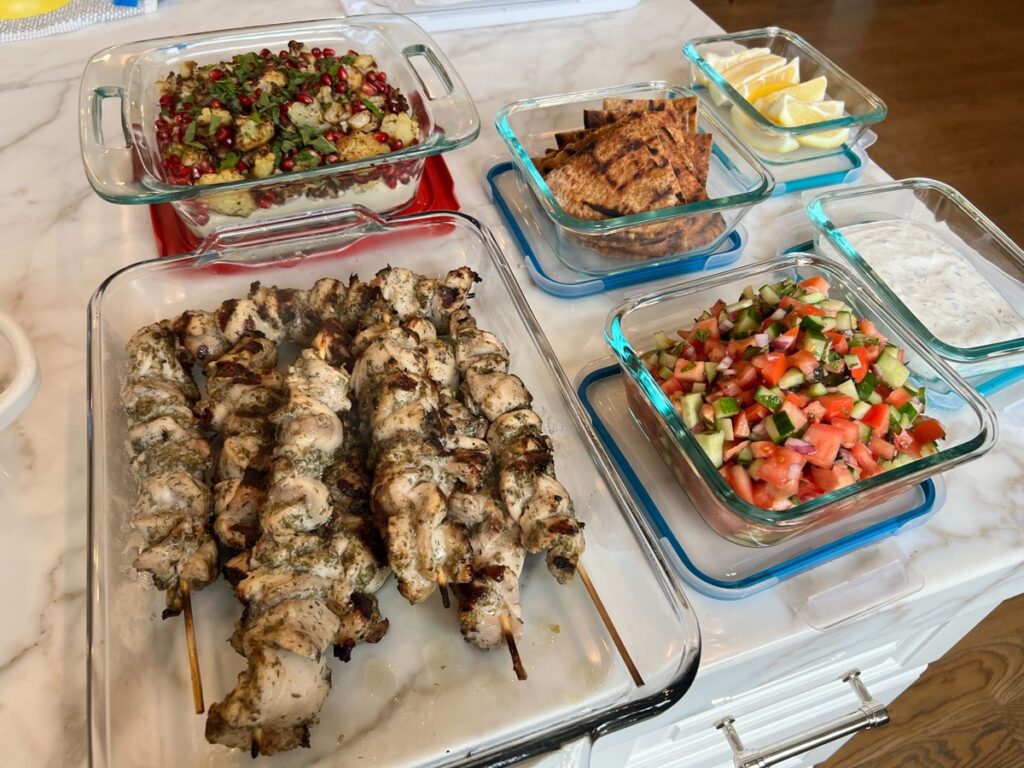 Basic Service
Your Chef will visit your home two or three times a week in the morning hours and prepare two meals. The first meal, to be eaten that day, is a two course meal, while the second meal, for the following day is a simpler, one course meal. Food will be packaged and left with easy reheating instructions. Weekly packages start at $360 for four dinners per week, without the cost of groceries.
Our Weekly In-home Dinner Service is Also Available via Delivery Throughout Metro Atlanta!
We know dinner time is tough. We've been tackling it alongside Atlanta families for over eight years.
It's important—but challenging—to put food on the table in the evenings. If you've tried other meal solutions, but nothing has met your family's varied dietary needs, culinary desires, and busy schedules, our weekly dinner service can help. We will listen to what your family wants, source the best ingredients, cook healthy dinners, and allow you simply enjoy time with your family around the dinner table.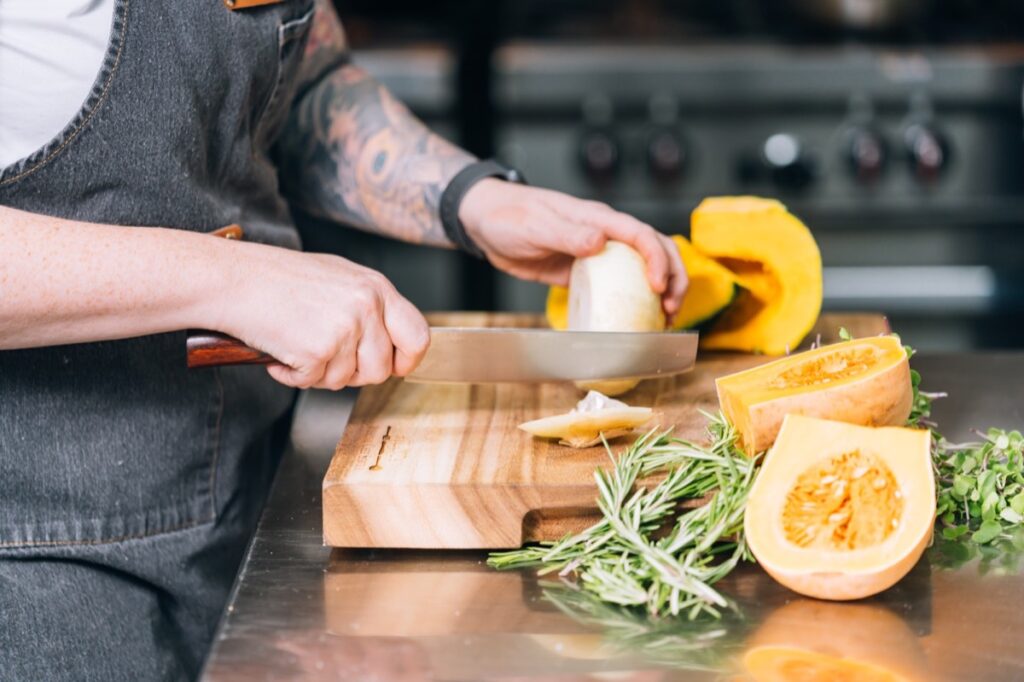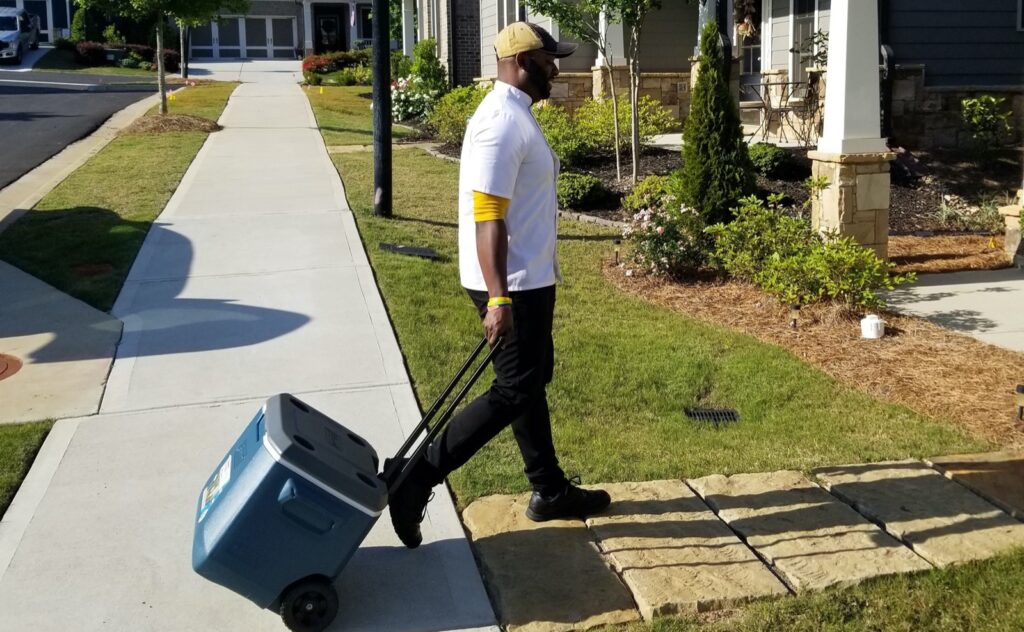 We help you solve dinner and rediscover peace and simplicity around the dinner table.
Our professional chefs learn your flavor profile, work with care, and deliver exceptional culinary experiences.
Most clients we work with find that having four dinners prepared for them each week is the perfect compliment to their own cooking and eating out. Choose from our four or six dinner plans below, and start enjoying a touch of luxury added to your work week.
Featured Personal Chefs
Weekly Dinner Service: Custom In-Home & Delivery Pricing
Weekly Dinner Service pricing starts at $400 for couples and $460 for a family of four per week, plus the cost of groceries. This cost includes a customized menu created each week for your family, and a chef who will prepare four dinners in your home each week, including grocery shopping, cooking, cleaning, maintaining a stocked and organized kitchen, and leaving reheating instructions when needed. Weekly meals are always balanced entrées complete with protein, starch, and sides, and soup, salad, or appetizer prepared each time your chef visits. Fresh, homemade dessert is prepared on occasion or as a nice surprise!
The cost of the food is not included in the service cost because each family's food preferences vary. Shopping is done at your local Publix, Kroger, Sprouts or Whole Foods.
All of our services are completely customizable to fit each family's needs. Contact us to discuss which service schedule would be best for your family.
| Dinners Per Week | Basic Service for 2 | Basic Service for 4 | Basic Service for 6 |
| --- | --- | --- | --- |
| 4 | $400 | $460 | $550 |
| 6 | $600 | $675 | $725 |
Excludes groceries. There is no travel fee for homes inside the perimeter, above I20. There is a $15 per day travel fee to areas within 10 miles of this area.
Additional Costs for Delivery Service

Delivery Fee: The delivery fee varies based on your home's distance from our licensed kitchen. Please call to get an estimate. Most deliveries inside the perimeter will be between $20-$30.

Disposable Containers & Bags: Will be charged at $12.50/visit day
Payments for Weekly Service

Paying bills can be a hassle, but we want to make things easy for you. Currently, Atlanta Personal Chef Service sets up an auto-payment account for each client with the option of using either eCheck or credit card. Paying by credit card requires a 3.5% convenience fee, while paying by eCheck does not.