In order to get the freshest ingredients possible, we go shopping every day before we provide personal chef service in our clients' homes. We've pulled together a few tips and tricks to share with you to help you cut down your time in the store, and maybe save you some money as well.
Navigate the stores quickly by creating intentional lists.
This means before you go shopping, have a list of what meals you're planning to make. For example, if you plan on preparing three meals with three different proteins, starches and vegetables, then have that listed on the top of a sheet of paper with each meal's ingredients listed below. For example:
| Seared Scallops with Caramelized Mushroom Sauce, Potato Au Gratin and Roasted Cauliflower | Korean Pork BBQ with Jade Rice and Bok Choy | Lemon Basil Chicken, Roasted Potatoes and Grilled Asparagus |
| --- | --- | --- |
| scallops | pork butt | lemon |
| onion | togarashi | basil |
| mushrooms | soy sauce | chicken |
| potatoes | brown sugar | shallot |
| cream | sriracha | onion |
| … | … | … |
Once you have your list, organize the list by the grocery store department: produce, meats, dry and frozen.
It may seem like a lot of work on the front end, but it will save you so much time in the grocery store. This should also help to reduce those impulse purchases — if it's not on your list, don't buy it.
Knowing what grocery stores are in your area before going shopping can be a big help.
Some grocery stores do things better than others. Some have better quality seafood, while others are better at produce. Check out the stores in your area to get a feel for what you might want to buy and where. Planning ahead is key.
Switching to insulated, reusable shopping bags is a great help as well.
Not only does it cut down on collecting those plastic grocery store bags, but it's a great way to keep food in a temperature-controlled area during the trip home. The grocery store Sprouts actually gives you a five-cent discount for using your own shopping bags.
Grocery stores have return policies, even with seafood.
Some people don't realize that if you get bad seafood from grocery stores you can get your money back. Each grocery store is different but, for example, with Publix, you  would just need to take a picture of the sub-standard product alongside its original packaging and have the receipt. Take the picture with the receipt to the customer service counter, and they'll take care of you. This is, of course, assuming that you didn't mishandle the product in transit. If our clients bite into a bad piece of meat, we encourage them to notify us immediately so we can get the refund on their behalf. We shop daily for our clients, and for the most part, the folks that work in the stores are wonderful about refunding or replacing bad product (which happens occasionally, no matter how savvy a shopper you are).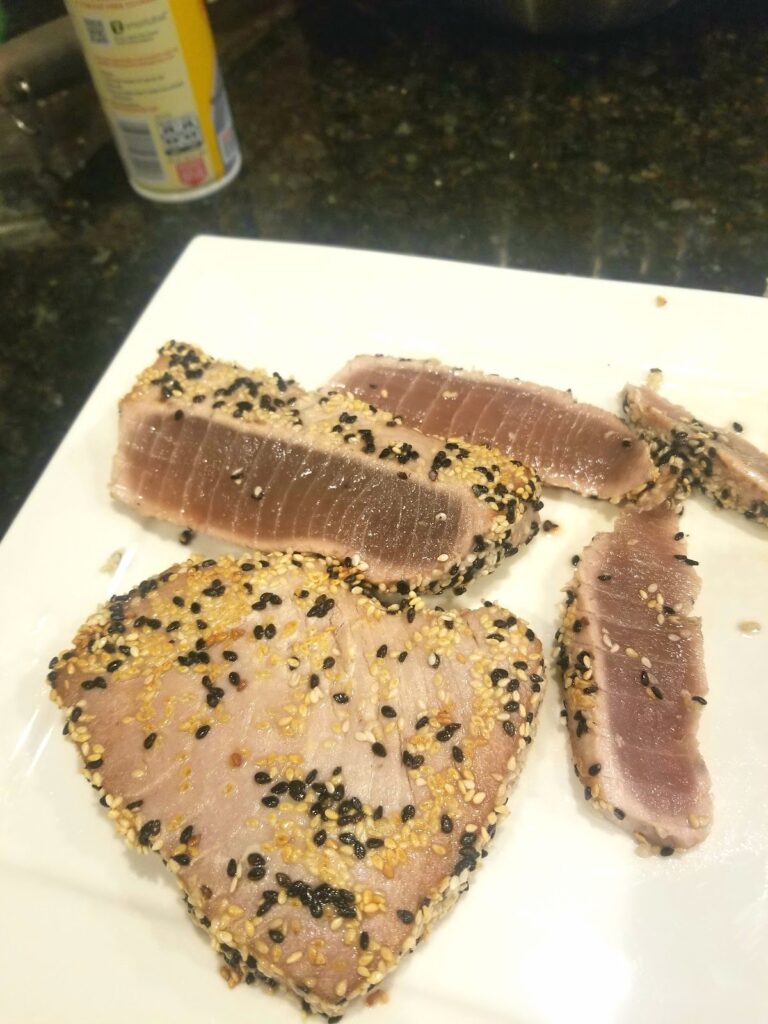 Shop for freshness.
Knowing what days seafood shipments or produce shipments come in can ensure you get the freshest possible quality. We often design menus so that fresh seafood is purchased and prepared on the same day it comes to the store. Ask your local grocery store which days are best to shop, and not only will you find the best pick of produce, you'll find plenty of it.
Lastly, always ask questions.
If you're unsure of something just ask the butcher, the produce manager, or the person working the seafood counter. It's always better to know than to assume. 
Happy shopping!